Day #8 Movies starring Damian Alcazar, Javier Camara, Cafe Tacvba y más!
Filmmakers in person, videogames and more!
(Thursday, March 19th) Comedies, Dramas, Documentaries and more! Don't miss the Spanish comedy La Vida Inesperada (9:30PM) starring Javier Camara, Mexican/Spanish family-drama Todos Están Muertos (7:30PM) starring Elena Anaya and Angelica Aragon, sci-fi/horror from Brazil Blue Desert (10:45PM) and more!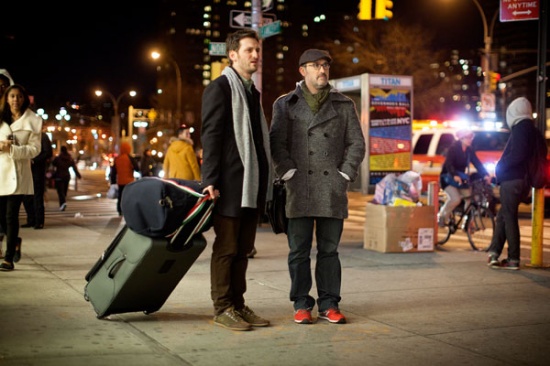 Special Guests Include:
Vico Escorcia and Director Gustavo Moheno Eddie Reynolds y los Ángeles de Acero (7PM) in person to introduce the film and Q&A after!Click on links below for film descriptions and to purchase tickets online. Tickets still available online all day/evening! Or, you can purchase tickets for tonight's screenings at AMC or DGC movie theater box offices. Movie tickets still available, purchase online today!
March 19, 2015
DOCUMANIA! / MEXICO / 2013 / DOCUMENTARY
CINE GAY SHOWCASE / CHILE / 2014 / DRAMA
!VIVA MUJERES! FEATURE SHOWCASE / MEXICO / 2014 / DOCUMENTARY
An array of energetic, whimsical and imaginative shorts that are considered the best to come out of Spain this past year.
CINE GAY SHOWCASE / CHILE/ARGENTINA / 2014 / DRAMA
MEXICO TODAY SHOWCASE / MEXICO / 2013 / COMEDY
SPOTLIGHT FILMS SHOWCASE / MEXICO / 2014 / COMEDY, MUSIC
!VIVA MUJERES! FEATURE SHOWCASE / PERU/COLOMBIA / 2014 / DRAMA
SPOTLIGHT FILMS SHOWCASE / MEXICO/SPAIN / 2014 / DRAMA
SCIENCE ON SCREEN SHOWCASE / MEXICO / 2014 / SCI FI
!VIVA MUJERES! FEATURE SHOWCASE / VENEZUELA / 2013 / COMEDY
HBO LATINO PRESENTS / MEXICO / 2014 / DOCUMENTARY
SPOTLIGHT FILMS SHOWCASE / SPAIN / 2013 / COMEDY
DOCUMANIA! / MEXICO / 2014 / DOCUMENTARY, MUSIC
SPOTLIGHT FILMS SHOWCASE / PUERTO RICO / 2014 / DRAMA
UN MUNDO EXTRAÑO SHOWCASE / BRAZIL / 2014 / SCI-FI/HORROR
* Films Also Screening at Digital Gym CINEMA in North Park
* * * * * *
Closing Night After-Party
Join us March 21st for our Closing Night Party at Andaz San Diego! Live DJ, drinks, with festival celebrities and filmmakers to mingle and celebrate! RSVP TODAY @ http://bit.ly/1GnP4iW // $20 at the door / $10 with same day movie ticket stub
Your ticket purchase supports Media Arts Center San Diego's year-round youth media education program!
FIFA15 Videogame Tournament
Think you have what it takes to win? Put your XBOX skills to the test today Thursday, March 19th (6PM-9PM)!
To participate, register in person at the Microsoft Store located in Simon Fashion Valley Mall.
In celebration of the bio-pic Messi screening at AMC Fashion Valley 18 March 21, 2015 12:20 pm as part of the 22nd San Diego Latino Film Festival, presented by Lexus!
More Info: 619-230-1938, phil@mediaartscenter.org
SPONSORS
PRESENTED BY SAN DIEGO COUNTY LEXUS DEALERS
Major Sponsors: City of San Diego Commission for the Arts & Culture, U-T San Diego, Vida Latina- San Diego, Enlace. Screen Sponsors: San Diego Gas and Electric, National Endowment for the Arts. Showcase Sponsors: Jacobs Center for Neighborhood Innovation, Televisa XEWT 12, KPBS, County of San Diego, El Latino Newspaper, Metropolitan Transit System (MTS), Science on Screen: An initiative of Coolidge Corner Theatre with major support from the Alfred P. Sloan Foundation, Cox Communications, San Ysidro Health Center. Gala Sponsors: Stella Artois, Uniradio, Radio Latina, Televisa XEWT 12, Vida Latina – San Diego, Univision, Tequila el Cachanilla. Award Sponsors: Harrah's Resort So. Cal., Union Bank. Venue Sponsors: Fashion Valley: A Simon Mall. Festival Day Sponsors: 102.9 FM, 106.5 FM, Univision Radio San Diego. Film Sponsors: Sharp Chula Vista Medical Center, Latino Public Broadcasting, MAAC Project, Learn for Life, ScholarShare, Cinelatino, Radio Latina 104.5 FM, Karina's Mexican Seafood Cuisine, Bloomingdale's, National University, Final Draft, Para Todos, McDonald's, HBO Latino, Microsoft Store Fashion Valley, Ayuntamiento de Tijuana, 93.3FM, Toros de Tijuana Club de Beisbol. Official Magazine Sponsor: Giving Back Magazine. Official Hotel Sponsor: Town & Country Resort Hotel & Convention Center. Newspaper Sponsors: El Mexicano, San Diego City Beat. Official Spanish-Language Television Sponsors: Telemundo 33, Univision KBNT 17. Official Spanish-Language Radio Sponsors: La Invasora 99.7 FM, Pulsar 107.3 FM, Uniradio 1470AM, La Poderosa 860. Official English-Language Radio Sponsor: Jammin' Z90, Magic 92.5 & 91X. Official Transportation Sponsor: Amtrak. Official Airline Sponsor: AeroMexico Contigo.